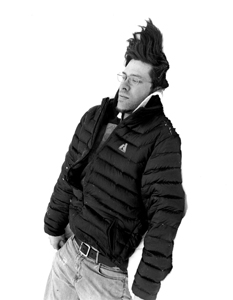 Noby One is the moniker of DJ, producer, poet, and visual artist Nevin Bryers. Born and raised adjacent to the west gate of Yellowstone National Park, Nevin grew up with a deep appreciation for nature and observation. Art played an important role in his upbringing. He has worked in a variety of mediums and currently produces fine art and graphic design, both of which can be found on the GDR site; including the logo and some of the cover art for Silent Sabotuers, as well as a handful of visuals for Gorilla Dust Records.
Music is equally a key facet of Nevin's background. A love for hip-hop surfaced at an early age, and the creation of pause/record mixtape cassettes proved to be a vital first step to his creations. In junior high, after his first encounter with manipulating sound on an old turntable, he became infatuated with turntablism and began digging for records. His first crew, while still in high school, consisted of friends Ekus Onus and Stonewallet. Together they built their skills in freestyle, turntablism, and their first taste at lo-fi production under the name Aradix. Not long after, Noby One and Ekus started to frequent The Beatdown Radio Show on Bozeman's KGLT, hosted by Nous and DJ Amen (Nevin's older brother), where they got their first chance to dj for a listening audience. This provided for a great opportunity to become immersed into the underground hip-hop scene. After moving to Bozeman in 2001, Noby began to DJ locally at parties and gigs, and finally had access to equipment that he could learn production on.
His first completed instrumental album Asymmetry was distributed hand to hand in the spring of 2002, each with its own hand painted cover. He became friends with fellow rap advocates Ehsee (Rapname) and Kumpas with whom he started to record tracks with. Ehsee and Noby One created a group called the Level Headed Bipeds, soon after, Kumpas and his good friend Ed Text joined Noby to construct the group Silent Sabotuers. The years that followed consisted of little sleep in the pursuit of rap and happiness. They effectively made two albums, the indoor-recorded Hostile Agents and the outdoor mountain recorded Rare Earthlings, before life set them in different geographical locations; which proved as only a small obstacle in the affect of their collaboration for new songs and albums.
With Ed Text back in Minneapolis, Noby One, Kumpas, Rapname, and Brujo created a new project as The Wreckloose, For. The group recorded one EP with the mindset of portraying individuals that live reclusive lives on the outskirts of society. While still DJing often around Bozeman, Noby became friends with a fellow turntablist named Maulskull, who was the DJ for a local band named Illsauce. The two quickly hit it off and started working together in a number of ways. One of their creative but short lived projects was a group called Hyperphagia which consisted of Noby One and Maulskull, both composing sounds with turntables, and additional rhythm by their drummer cohort Dean Wakerlin.
In the beginning of 2007, the group Black Mask was formed and began playing shows in a live hip-hop band format with songs designed from the production of Maulskull. Noby served as DJ and sampler for the group's live act, provided influence in many aspects of the studio recordings, and designed the cover art for their first album Facade Dreadnaught. More recently, Noby joined a group called Grump Lip alongside Kumpas and Savage Christ. For this project he has taken on the pseudonym None The Wise. Noby One presently works on his solo instrumental music, remains an active member of Silent Sabotuers and Gorilla Dust Records, and continues to take steps foreward in his art and graphic design endeavors.